His army was annihilated in Turkey in October of 1096. The Jewish communities of Wesseli and Prague in Bohemia were also massacred by Crusaders when they resisted forcible conversion.
Rabbi Elazar ben Nosson (Ravan) (1090-1170) wrote an elegy regarding the massacres of the First Crusade, which unfortunately remains relevant down to our day
It reads, in part, "Who has heard of such tragedy? Who has seen such events? Here there were a thousand Akeidot [the sacrifice of Isaac by Abraham is called Akeidah] in one day. The whole world was once overturned by one Akeidah [of Isaac] on Mount Moriah. Angels then shouted and holy heavenly beings then wept. How could the skies now remain bright and the stars continue to shine? How does the light not now dim since thirteen hundred innocent holy people were killed at one time? How can the world continue to function when infants and innocent children, the poor and the meek, were destroyed? Even now, God, do You still hold your peace?"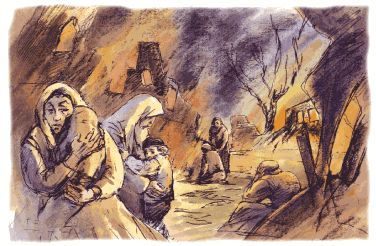 UNIT 11 – WERE THE JEWS PROTECTED AT ALL?
11.1 MANY JEWS THOUGHT THEY WOULD BE PROTECTED BY THE KING OR LOCAL LORD. SOME WERE – AND SOME WERE NOT.
Many churchmen and nobles did attempt to protect their Jewish populace..
In most cases, those who wished to save Jewish lives from the mob were successful.
Others in positions of leadership succumbed to the fanaticism and violence of the Crusaders and allowed their Jewish neighbors to be despoiled and destroyed.
History is formed and civilizations are built on such moral choices.