Become a Destiny Member the value is PRICELESS and the SAVINGS are great.
On one thing all Jews agree: we share a unique history. And the most respected voice in teaching that history is Rabbi Berel Wein's. Whether you've been a fan for years or you've onry recently discovered his treasure trove ot history lectures, documentaries, and books, we at the Destiny Foundation extend to yau a unique offer, membership.
Sign up and this is what you'll get:

A FREE DVD
Nothing brings history to life like film. With your new membership, you will receive a FREE DVD the 'emotionally spellbinding' episode "The Miracle ol Israel / 1945-1948" from the highly acclaimed 13-part film series Faith and Fate / The Srory of the Jewish People in the 20th Century.
Value = $24.95

FOUR FREE MP3s EVERY MONTH
The Library of Rabbi Wein's downloadable MP3 history lectures covers every topic you can name – from Biblical history to the modern state of Israel, from biographies of our greatest leaders to inspiring words of spirituality.
As a MEMBER, you can download any four lectures each month lor FREE. The download process is easy to use, but if you need assistance, we're always a phone call away at 800-499-WEIN (9346).
Value = $20 each month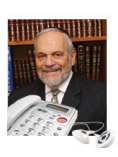 EXCLUSIVE MATERIAL FROM RABBI WEIN MONTHLY
Exclusive material from Rabbi Wein monthly. Rabbi Wein will give MEMBERS his insights – which might include thoughts on Jewish history, the holidays, current events, and other topics of interest.
Each month, Rabbi Wein wil host a question & answer session for MEMBERS ONLY. You'll be able to ask Rabbi Wein questions on just about anything from history & holidays, philosophy, community issues…even about raising children. We can't guarantee that every question will be answered, but every answer will be interesting!
Value = $50 per month

WEIN PRESS DELIVERED TO YOUR DOOR
You'll receive FREE one of the most popular newsletters in the Jewish world.
The Wein Press features six pages of Rabbi Wein's thoughts on recent world events, peppered with plenty of his classic wry humor. A digital download will also be available. Published 10 times a year.
Value = $50 per year

DISCOUNT ON ALL PRODUCTS
45% off

for MEMBERS an all products.
All RabbiWein.oom discounts will be made available to MEMBERS ONLY.
Value = Huge savinga on anything you buy!
This Is What Your Membership Supports: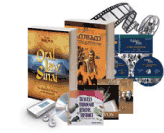 Destiny's Educational Initiative to Schools and Communities Worldwide
The Production of Destiny's Films, Books and Multi-Media Educator's Guides
The Production of Berel Wein's Audio and Video Courses
Your Membership Helps Make All This Happen – and it's Tax Deductible!
DESTINY MEMBERSHIP
Here's What You Get:
FREE DVD
Four FREE MP3s each month
Exclusive Material from Rabbi Wein each month
Wein Press Newsletter
45% Discount On Everything
Your membership is tax-deductible and supports the Destiny Foundation
$18 per month
$15 per month (for the first 500 Destiny members)