UNIT 10 – JEWS ATTACKED AS PART OF THE FIRST CRUSADE
View Video 1:55
10.1 ANTI-SEMITISM UNLEASHED. PETER THE HERMIT
Although the Crusades were mounted to conquer the Holy Land, anti-Semitic Crusader Fever unleashed itself against the Jews – mainly in Germany, and in parts of France. On May 3, 1096, a South German army of Crusaders commanded by Count Emich of Leisingen massacred the Jews of Speyer.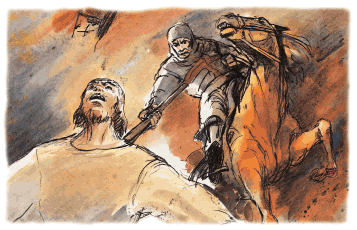 This cruel and despicable person proved himself much more adept at killing innocent people than warring against a professional army. He and his mob were smashed by the Turks at Wieselburg on the Hungarian border, and never even reached Asia Minor, let alone Jerusalem.
Their appetite for Jewish blood whetted, the Crusaders marched to Worms. On May 18, they destroyed the Jewish community there, killing many hundreds in the process.
Finally, on May 25, the murderers reached Mainz, the largest Jewish community in Germany.
The massacre there lasted four days, encompassing the holiday of Shavuot, and thousands of Jews perished in the blood bath.
Jewish women suffered unspeakable atrocities. The barbarism of the German Crusaders would know no equal until the behavior of later Germans in the twentieth century.
From Mainz, roving bands of Crusaders went to Cologne, Trier, and Metz, where further massacres of Jews ensued.
Led by Peter the Hermit, a mob of Crusaders attempted to force a mass conversion of the Jews of Regensburg, killing all who resisted.
Peter the Hermit – this strange, illiterate, "holy" man provided the necessary visions, omens, and "miraculous" events to encourage the Crusades and many other wars, coronations and conclaves in the Middle Ages.