1.2 BUT HISTORY IS NOT LOGICAL, PREDICTABLE, OR RATIONAL. LN THE YEAR 711, THE ARABS OF NORTH AFRICA CROSSED THE STRAITS OF GIBRALTAR AND INVADED SPAIN, AND BY 715 MOST OF SPAIN WAS UNDER MUSLIM RULE.
Pockets of Christian domination remained only in northern Spain, especially centered in the regions of Castile and Aragon, and the city of Barcelona. But even those Christian enclaves were significantly influenced by Spain's Muslim rulers, taking on the culture, and even the attitudes, of the Arab conquerors.
With North Africa's Arabs came its Moors, Berbers – and Jews. These groups formed the urban nucleus of the new Muslim society and provided the economic and governmental infrastructure necessary for the development of the country.
The Muslim Arabs were tolerant not only of their Moor and Berber co-religionists, but of the Jews (and to a lesser degree, of the Christians) as well. There were many reasons for this tolerance, but practical necessity was the most important one.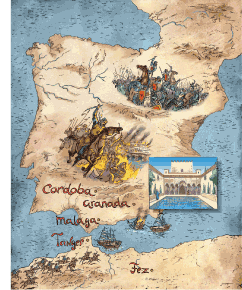 The Muslims became reconciled to the presence of Jews in their society – as long as they were submissive and unobtrusive. Within fifty years after the death of Mohammed, when it had become obvious that the Jews would not convert to Islam, even at the point of a sword. In 8th century Spain, they not only tolerated the presence of the Jews, but needed them.
Although the Arabs formed the ruling class in Spain, they were unable to provide die necessary governmental and social infrastructure to effectively govern the society.
Unable to rule efficiently and profitably by themselves, they willingly allowed the Jews to assume many of the burdens of leadership, investment and policy-making, as long as the proper master-servant relationship between Muslim and Jew was maintained.
The Jews, and to a lesser extent the Christians, became the needed tax collectors, the custom brokers and agents, the diplomats and the civil servants of Muslim Spain.
The Jews also maintained trade contracts with their brethren throughout the world and soon became the leading merchants in the country. The Arab rulers found the Jews to be the natural vehicle for developing Spain and enriching the Muslim ruling class. Thus was born the European model of the productive and sometimes indispensable Jewish functionary, who would be tolerated and even rewarded, as long as he knew his place.