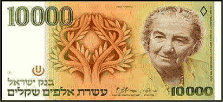 From 1948-1949 Meir was the first Israeli ambassador to the Soviet Union. While stationed in Moscow she attended High Holiday services at a local synagogue and was mobbed by thousands of Russian Jews chanting her name. As a result, the Israeli 10,000 shekel banknote issued in November 1984 portrayed Meir on one side and the crowd that turned out to cheer her in Moscow on the other.
From 1949-1956 she was the Minister of Labor. In 1956 she became Foreign Minister and changed her name to Meir. She held this position for a decade.
From 1966-1968 she was the Secretary General of Mapai and then the first Secretary General of the fledgling Labor Party. In 1969 Prime Minister Levi Eshkol died suddenly and Meir replaced him as prime minister. Meir was known as the "Iron Lady" of Israeli politics and she was frequently referred to as the "strong-willed, straight-talking, gray-bunned grandmother of the Jewish people".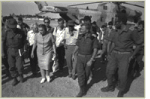 The Yom Kippur War broke out during her administration. The massive Egyptian and Syrian attack began on October 6, 1973. In 1974, Meir resigned the premiership, although she won the elections. Her successor was Yitzhak Rabin. She is buried on Mount Herzl in Jerusalem. Meir wrote My Father's House (1972) and My Life (1975).
"We can forgive the PLO Arabs for killing our children. We cannot forgive them for forcing us to kill their children", (1972) is one of Meir's most often quoted statements. These now famous words reflect the passion for her People that she is still admired for today.
Sources:
Faith and Fate is not responsible for the content of external websites