GOLDA MEIR 1898-1978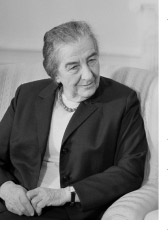 Golda Mebovitz (Meir) was born in Kiev, Ukraine in 1898. Her family arrived in the United States in 1906, settling in Milwaukee, Wisconsin. She was Israel's first and the world's third female prime minister. Israel's first Prime Minister David Ben-Gurion called her "the best man in the government".
Meir showed signs of leadership from a young age and organized a fundraiser for her schoolmates' textbooks while she was in junior high school. At 14 she was a high school student and working part time. Meir rebelled when her mother asked her to quit school and get married. She quickly found herself on a train to Denver Colorado, where her married sister Sheyna Korngold lived. It was the intellectual discussions in her sister's home that opened up the world of Zionism, literature, women's rights and socialism to the teenaged Meir. Years later, in her biography she wrote, "To the extent that my own future convictions were shaped and given form… those talk-filled nights in Denver played a considerable role".
The influence of these late night discussions led Meir to join "Poalei Zion" (Workers of Zion), a Zionist youth group while she was still in high school. She became an active member, embracing socialism and hosting visitors from Palestine. These activities planted the seeds for her move to British Mandate Palestine in 1921. She spent the next three years living on Kibbutz Merhavya with her husband, Morris Myerson with whom she had two children, Menachem and Sarah. A devoted socialist, she worked tirelessly in the Labor Zionist movement. Her energies were increasingly dedicated to building a state for the Jews.
In 1924, she moved to Tel Aviv and worked for the Histadrut Trade Union. She had a managerial position with the Union's construction corporation, Solel Boneh. From 1932-1934 she was the secretary for the Hechalutz women's organization in the United States as well as the secretary of the Histadrut's Action Committee.
In 1946 Meir replaced Moshe Sharett as the head of the Jewish Agency's Political Department. In this position she was the top Jewish liaison with Britain. She was one of two women who were members of the People's Council that signed the extraordinary proclamation establishing the State of Israel in 1948. As one of the Jewish Agency's executive's, Meir actively fundraised in the United States to fund Israel's 1948 War of Independence.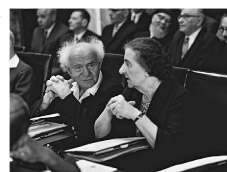 David Ben Gurion chose Meir, who had become one of the Jewish People's most effective spokesmen, to be part of his Provisional Government in 1948. Only days after signing Israel's Declaration of Independence, Ben Gurion sent Meir on a dangerous mission to meet King Abdullah of Jordan. She traveled to Jordan disguised as an Arab man. Her failed mission was to convince Jordan not to attack Israel.