TEAM DESTINY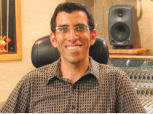 Mitch Clyman – Sound Producer
Mitch is the audio post production supervisor for Destiny's films, in charge of sound design, audio editing and mixing.
He is the owner of Muso Productions in Jerusalem, Mitch has 20 years of experience in music and sound for television and film. He wrote the words and music for dozens of children's songs. He has produced and arranged albums for various artists and scored for over 30 animated films, multiple documentary and industrial films and writes original music for commercials and jingles. He also teaches Music & Sound Development at Sapir College in Israel.
With a BA from Berklee College of Music in Film Scoring and Minor in Audio Production and Engineering, he also took Master Courses in Composition and Conducting at Goldsmiths's College at the University of London.
Some of his clients include: Time-Warner as Musical Director, wrote the original Score for 50th Anniversary film for the State of Israel, Bank Hapoalim, Channel 1 & 2, Israel, Cinevision USA, McGraw-Hill Intl., HBO, BBC, AETN Miramax and Warner Bros. Music and Multi-channel mix for multi-screen events, music and sound design for promo spots and commercials.