TEAM DESTINY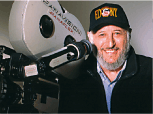 Ashley Lazarus – Director / Producer.
After having studied economics and law at the University of Cape Town, Ashley decided to follow his passion and become a filmmaker.
Ashley wrote and directed E'Lollipop, starring Jose Ferrer and Karen Valentine. When released, it was the second highest grossing feature-film in South Africa's box office history. It was the first Apartheid-era movie to depict a friendship between a black and a white child.
In 1969, he was responsible for production managing and servicing the filming of the South African sequences for David Lean's Ryan's Daughter.
Acknowledged as a founding force in the South African advertising and film industry, Ashley established AKA Studios which became the leading producer of advertising and marketing films in South Africa. He helped create a dynamic and successful advertising format for screening theatrical commercials in cinemas – prior to the establishment of television in South Africa in 1975.
In 1985, Ashley and his family moved to NY where he became one of the most respected and creative directors of commercials in America. He has worked with most of the leading advertising agencies and with over 100 corporate clients including: Coca Cola, General Foods, General Motors, Ford, Toyota, Mercedes Benz, Exxon, Shell, Mobil, Mattel, Disney, Dunhill and 3M. He has won over 80 awards at international advertising and film festivals including: New York Clio Awards and first prizes at the Cannes, London and Tokyo, film festivals.
As a director of over 30 documentaries, he won the Venice Film Festival's Golden Lion Award for Canvas in the Sky, a film on flying trapeze artists. His marketing documentary Spring in Spring Hill launched General Motor's new car company Saturn. It won first prize at the New York Marketing Awards Festival. General Motors purchased the full half hour before the 1990 Super Bowl to screen the film that launched Saturn.
In 1987, Ashley and his wife established the Lamed Foundation to produce media productions for Jewish education and charities. Projects to date include: They Looked Away, a documentary probing the question of why the allies did not bomb the train tracks to Auschwitz, narrated by Mike Wallace. Several films for Chabad's Children of Chernobyl and in 2006. Yes We Can! for the Israel Sport Center for the Disabled,and 28 films and audio productions for the new Jewish Children's Museum in Brooklyn, NY.
In 1997 Ashley and Berel Wein established Destiny Films to produce films and educational programming on Jewish History. To date he has directed Rashi – A Light After the Dark Ages, Rambam – The Story of Maimonides, and currently the 13 part series, Faith and Fate – The Story of the Jewish People in the 20th Century.