Latest News
TRIUMPH OF SURVIVAL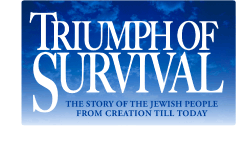 Based on his highly successful audio series on Jewish History (over one million lectures have been distributed world-wide), Berel Wein and Destiny have begun production on a new video and audio series entitled Triumph of Survival. The Story of the Jewish People from Creation until Today.
"With the advances in digital technology – and the demand for a video version of my history audio series (some of the original lectures were recorded on analog tape over 20 years ago), I decided to create a new updated and more comprehensive series covering Ancient, Medieval and Modern Jewish history, Triumph of Survival will include a fuller, contemporary overview – with relevant anecdotal insights. The Series will trace the dramatic arc of our history – linking the past to the present in the ongoing, remarkable story of the Jewish People."

Berel Wein
Director, Destiny Foundation
Triumph of Survival is planned to be a 120 part series – produced in 10 lecture segments. Each segment will be available in video, audio and text formats. The first segment is slated for release at the end of April 2010.
The series is being filmed before a live audience in Jerusalem, at the Hanassi Synagogue, Rechavia – on select Saturday nights. Tickets will be available at the door. Call Miriam Cubac 052-833-9560 for schedule and time.