UNIT 10 – THE CONQUERING ALMOHADS
10.1 WHO WERE THE ALMOHADS AND WHAT WAS THE DANGER?
the Almohad Dynasty (in Arabic "the Monotheists"or "Unitarians") was a Berber Muslim dynasty that was founded in the 12th century by Abu Abd Allah Mohammed ibn Tumart. He was a Beerber Muslim religious cholar, teacher and later a political leader. In 1125, he began open revolt against Almoravid rule.
View Video 3:46 min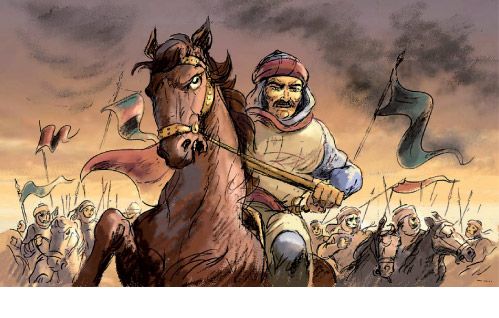 The Almohads conquered all of Northern Africa as far as Libya.
Between 1130 and his death in 1163, Abd al-Mu'min al-Kumi, a Berber from Nedroma, defeated the ruling Almoravids and extended his power over all Northern Africa, becoming emir of Marrakech in 1149.
Al-Andalusia, Moorish Iberia (what is today southern Spain), followed the fate of Africa, and in 1170 the Almohads transferred their capital to Seville. By 1212, however, Mohammed iii,"al-nasir" (1199–1214) was defeated by an alliance of the four Christian princes of Castile, Aragón, Navarre and Portugal. Their victory destroyed Almohad dominance and nearly all of the Moorish dominions in Iberia were lost soon after, with the great Moorish cities of Cordoba and Seville falling to the christians in 1236 and 1248 respectively.
The Almohads continued to rule in Africa until the piecemeal loss of territory through the revolt of tribes and districts in 1215.