WHO WAS RAMBAM?

(PRIOR-TO-VIEWING)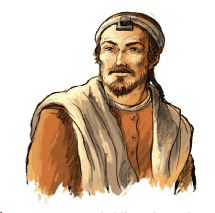 FULL NAME: Rabbi Moses ben Maimon
BIRTHPLACE: Cordoba, Spain
BORN: 1135
DIED: 1204
EDUCATION:
Studied torah and secular subjects such as mathematics, astronomy, and philosophy under the guidance of his father, rabbi maimon. Studied medicine in Spain and Fez, Morocco.
ACCOMPLISHMENTS:
Wrote the first systematic code of all Jewish law called the Mishneh Torah.
Authored the philosophic work called Moreh Nevuchim, the guide to the perplexed. wrote Sefer HaMitzvot, a book which details the commandments in the Torah. published a commentary on the entire Mishneh.
Wrote books on medicine and responsa to questions in Jewish law.
Wrote letters that saved the Jews of Morrocco and Yemen.
PROFESSION:
Served as the personal physician to Sultan Saladin of Egypt. led the Jewish community of Fostat, Cairo.
FAMILY:
Ancestors include Rabbi Yehuda Hanasi, the compiler of the Mishnah, and King David. Rambam's father, Rabbi Maimon, was the dayan (judge) of Cordoba. his brother, David, was a jeweler who supported Rambam and his family. Rambam's son, Rabbi Avraham, succeeded him in the position of leader of Fostat.