care, was largely at the root of the interest in the economic system of communism. Capitalist nations, led by the United States, opposed the communist domination, and offered support to countries such as Greece and Turkey in the form of supplies, equipment, and loans to keep them safe from Communist control. The conflict between the two world powers, the United States and the Soviet Union, resulted in the Cold War, a competition over weapons, technology, and power.
At the time of the breakup of the Soviet Union in 1991, the Communist Party dissolved. There was also a significant decline in communist governments in Eastern Europe from the late 1980s. Nonetheless, nearly a quarter of the world's population still lives in Communist states, mostly in the People's Republic of China. The other communist countries today are Cuba, North Korea and Vietnam. There are also communist movements in Latin America and South Asia that have significant popular support. Nonetheless, some of these countries' economic systems, notably China, do have capitalist features in place.
For more information go to the following websites:
Faith and Fate is not responsible for the content of external websites.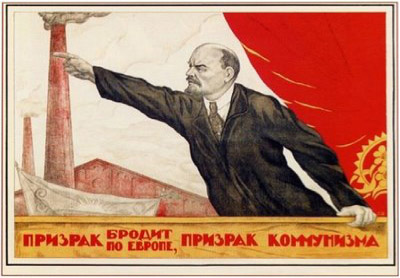 Lenin proclaims that the spirit is stalking Europe, the spirit of Communism
Poster 1920