Identification card belonging to Robbie Waisman
Buchenwald, Germany, 30 April 1945.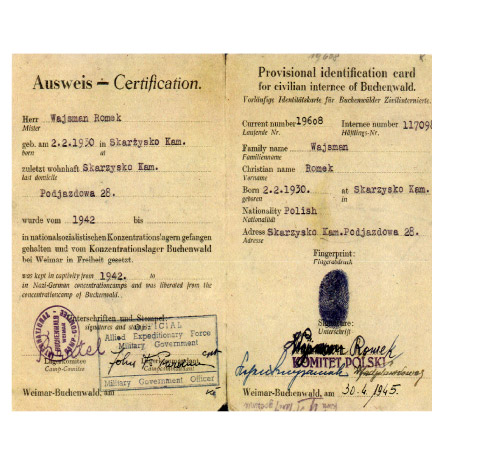 After liberation, Buchenwald was turned into a displaced persons camp and we were all given official identity cards signed by the Allied Forces.
I remember getting this card because it was the first time in years that anyone had bothered to ask me my name. Not since I was taken by the Nazis in 1941, had anyone asked me who my parents were and where I was from. In the concentration camp I was only known by my number -117098.1 was thrilled to get this card because it was the reverse of what had happened to me when I was imprisoned. This card gave me back my humanity.
It looks very worn because I earned it everywhere from then on, on all our excursions. It proved who I was. It was my security.
Robbie Waisman