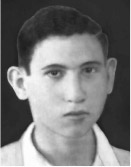 ALEXANDER RUBOVICH
1929-1947
Alexander Rubovich was a member of Lehi who was kidnapped and murdered the British police. Rubovich was sixteen and a half at the time of his murder. The Lehi, also known as the Stern Gang, was an underground militant resistance movement whose goal was the eviction of the British from Palestine, freedom of Jewish immigration and the establishment of a Jewish State by militant means. All Lehi members went by pseudonyms, and Rubovich's was "Haim".
Rubovich came from a religious family and was the son of Yaakov and Nechama Rubovich. His father ran a pharmacy in Jerusalem's Orthodox neighborhood of Meah Shearim. The boy joined the Lehi while still a Jerusalem high school student. He was thrown out of school when his membership in the underground movement became known to the principal. As a high school dropout, Rubovich worked in his father's pharmacy.
On May 6, 1947 Rubovich was headed for a park in Jerusalem's Rehavia neighborhood where he intended to paste up Lehi posters. At the time, this was an illegal and dangerous activity, and anyone caught risked immediate arrest and detention by British forces. The teenager was never seen again.
Eyewitnesses reported seeing a plainclothes British official struggling with the boy, forcing him into a car and speeding away. A second British looking man was spotted inside the car. When confronted by the boy's parents, the British denied any knowledge of Rubovich.
The family soon discovered that the kidnapper's cap had been found by a young Jerusalem boy. Inside the cap the name Farran was printed. The kidnapper was soon identified as Roy Farran, a British captain and decorated WW II veteran, a member of a unit formed to eradicate violent Jewish groups.
The Lehi's response to the continued British denial with regard to the incident was an attempted hostage taking. When this failed, they started killing British soldiers and police all over the country. The Lehi made it clear that the killings would continue until the kidnapper stepped forward.
THE UNDERGROUND – ISRAEL FREEDOM FIGHTERS –
LEHI PROCLAMATION JUNE 1947
Alexander Rubovitch has been tortured to death by his kidnappers and his body disposed of.If the enemy rulers fail to reveal the boy's whereabouts within the next few days the above conclusion will be taken as proven.
In that case the British criminals will get their just desserts..
At the same time, public outrage against the British increased daily. Farran was sent to Syria, but an article appeared in the Syrian press about drunken British officers in a local pub and Farran's name was listed. The British could no longer deny that Farran was indeed a British officer. Having been caught lying, the British claimed that Farran was a deserter.