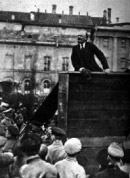 THE RUSSIAN REVOLUTIONS
1905 and 1917
The social causes of the Russian Revolution stem mainly came from centuries of oppression of the lower classes by the Imperialist Tsarist regime and Tsar Nicholas II's failures in World War I. While rural agrarian peasants had been emancipated from serfdom in 1861, they were still beholden to the nobility for their redemption. They lived a life of dire poverty and repression.
Urban industrial workers also lived in very poor conditions in overcrowded cities, due to the rapid industrialization of Russia. They were the new 'proletariat' and were more likely to protest and go on strike than the peasants of earlier years. They lived in overcrowded apartments, an average of six people per room, without running water or a sanitary system.
Tsar Nicholas II and his ineffective government ministers were out of touch with the people who were deeply dissatisfied with the existing autocratic system. He subscribed to the myth that the ruler was saintly and a blessed father to his people. The Russian Orthodox Church supported him, both as the leader of the church and "Holy Mother Russia"
In 1905 there was a territorial war between Russia and Japan, in which Russia was decisively defeated. This combined with the miserable conditions for the average Russian citizen, helped pave the way for the series of strikes, demonstrations and riots called the 1905 Russian Revolution.
"Bloody Sunday" is the name of the incident that sparked the Revolution. Ironically it began as a step towards reconciliation. Father George Gapon of the Russian Orthodox Church took it upon himself to lead the workers. He decided to turn directly to the Tsar and ask for better conditions for Russia's masses. He had a petition in his hand signed by 150,000 peasants. Gapon led a peaceful group to the Tsar's palace and received a barrage of bullets from his leader's troops in return. One hundred peasants were killed and more than 300 wounded. The population erupted in rage and the 1905 Russian Revolution began. Led by Socialists, Anarchists, and Communists the country spun out of control. Eventually after fierce fighting the Tsarist army got the upper hand.
In response to the upheaval, a legislature called the Duma was set up to deal with the demands for reform. However, it was "too little, too late". The revolutionaries