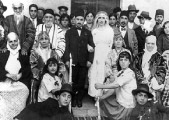 LADINO
The Language
of the Sephardim
The Ladino language is also known as Judeo-Spanish, Sephardic, Crypto-Jewish or Spanyol [also: Romance, Ğudezmo, Spaniolish]. Ladino has its roots in the 15th century, and evolved after the 1492 Jewish expulsion from Spain. The Spanish spoken by the Jews who fled Spain was influenced by the Mediterranean languages in their new countries and eventually became Ladino.
Ladino is not a blend of languages. It is based on the original Spanish spoken by the Jews in Spain before the Expulsion. Many words entered Ladino from the languages that Jews spoke in the countries they settled in – such as Turkish, Italian, Greek, Arabic, French, Bulgarian, and Serbo-Croatian. These words not only entered the Ladino vocabulary but also influenced Ladino dialects.
There were two main dialects, depending on where Jews originally came from in Spain and where they finally emigrated to. The first was Oriental Ladino, with a southern Spanish Catalonian accent, which was spoken by Jews in the Turkish Ottoman Empire, southern Greece, and the island of Rhodes. The other was Western Ladino, which had a northern Spanish and even a Portuguese accent. It was spoken in the Balkan countries Macedonia, Bosnia, Serbia, and Romania – as well as, in Salonika (Thessaloniki) in northern Greece. Ladino was widely spoken in Salonika until the deportation and murder of 50,000 Saloniki Jews during the Holocaust.
Initially, Ladino used a Sephardic Hebrew alphabet. (See attached) Today the Latin alphabet is commonly used, except for religious works. The Rashi script used for Rashi's commentary is in fact a Sephardic Hebrew script used for Ladino, which was introduced by a Sephardic typesetter, to differentiate Rashi's commentary from the classic Hebrew script. Rashi never ever saw "his" Sephardic Hebrew/Ladino script as it is used today in his commentaries on the Talmud.
In the Ottoman Empire, Ladino it was known as "the Jewish language." Early Ladino literature was mostly Hebrew translations. Ladino literature appeared in the 18th century. A well known example is Me'am Lo'ez, the highly popular and widely read commentary on the Tanach. It was written by Rabbi Yaakov Culi in 1730 to bolster and inspire Jewish learning. He did not complete it in his lifetime and it was completed by another Torah scholar after his death. Today, it is still very popular and is available in Hebrew – with a superb English translation by Rabbi Aryeh Kaplan.
By the end of the 19th century, Sephardic Jews in the Ottoman Empire were