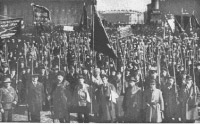 BOLSHEVISM
Bolshevik militant rally
Bolshevism began as a dissenting political movement within Russian Marxism before World War I. Its leader was Vladimir Ilich Ulyanov, later known as Lenin (1870 – 1924). Within the Russian Social Democratic Labor party, the Bolshevik radical communist faction was one of two branches -the other was the Mensheviks. The Bolsheviks were the extreme wing that advocated the violent overthrow of Capitalism – and replacing it with Socialism. The Mensheviks were less radical.
Both the Bolsheviks and the Mensheviks supported a Socialism that advocated:
Total collective /government ownership and administration of the means of production and distribution of goods.
All private property and businesses would be owned by the collective/government.
All citizens would work for the state which, in turn, would support them.
Prior to the revolution of 1917, Russia was ruled by the Tsarist government and its inept government ministers. There was an elite upper class and the wealth of Russia was unevenly distributed. Most Russians lived in dire poverty. Conditions for workers were miserable and subject to the unfair whims of the capitalist factory owners.
A key difference between the Bolsheviks and the Mensheviks was how to change the status quo – and get rid of the Tsar and his government.
The more moderate branch, known as the Menshevik faction, was led by Georgi Valentinovich Plekhanov. The Russian word Bolshevik means literally a person in the majority, as opposed to Menshevik, a person in the minority. These titles originated at the second party congress of the Russian Social Democratic Workers Party (RSDWP) that convened in 1903, first in Brussels and then in London.
The Bolsheviks sought to overthrow and seize power through a strong centralized hierarchy. Within the party there was rigid adherence to the leadership of the central committee based on the notion of democratic centralism.
The Mensheviks, however, believed that Russia could not pass directly from its backward state to a rule by the proletariat and initially an intermediary bourgeois regime must be developed. These differences were not always clear-cut, and many Socialist leaders, such as Leon Trotsky, passed from one group to the other and back again.
The Mensheviks wanted a loosely organized mass party. Lenin and the Bolsheviks favored a small, disciplined party of professional revolutionaries. In a pamphlet published in 1905, Lenin outlined his concept of revolution in Russia. Since the Russian bourgeoisie were too weak to lead its own revolution, he argued, the proletarians and peasants must unite to overthrow the tsarist regime and establish a grassroots dictatorship of the people.