AMERICAN JEWRY IN THE 1950'S:
THE CHALLENGES OF SUBURBANIZATION, ACCEPTANCE AND ASSIMILATION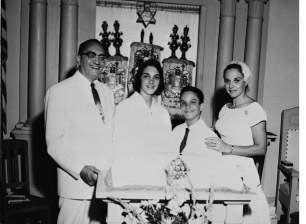 The 1950's presented great opportunities as well as great challenges for American Jews. On the one hand, Jews began to experience the sort of acceptance that they had never known through millennia of exile; on the other hand, this changing society led many Jews to assimilate, intermarry or otherwise compromise their Jewish identity.
There were a number of social factors which made the 1950's the beginning of an era of increasing acceptance for American Jews. Although some Americans had originally viewed World War II as a "Jewish war", the exposure of the extent of Nazi atrocities made most Americans deeply sympathetic toward Jewish refugees. In addition, over half a million Jews had served in the United States Armed Forces over the course of the war (a disproportionately high percentage), shattering many stereotypes with their bravery.
With the passing of the GI Bill, it was now possible to go to college or university for free, and have the government pay for it. However, with many colleges and universities having quotas for minority students – the government, became involved, although not explicity, in the monitoring of the acceptance and non-acceptance of minority groups. At the same time, many universities, such as Yale, which did limit the percentage of Jewish students, began dropping their informal quotas.
This was the beginning of a period, which continues into the 21st century, where the social anti-semitism became unfashionable and it declined. It even became unfashionable for resorts and hotels to restrict Jews. There was great competition for entertainment and leisure dollars, and Jews who reached middle class status were welcomed in. In the early 1950s, for the first time, it was possible to get kosher food on an airplane.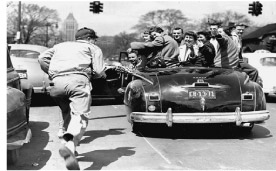 The heating up of the Cold War also allowed Jews greater acceptance because, in order to be competitive against this new international challenge of the Soviet Union, American society had to be opened up to all who could contribute. Although Senator Joseph McCarthy's anti-Communist campaign did stir up some anti-Semitism, by the latter part of the decade, with the Space Race in full gear, the high numbers of Jews in mathematics and the sciences were greatly appreciated.
There were other social factors in play as well. The civil rights movement — in which Jews played a significant part — made the issue of race far more relevant than the issue of religion.